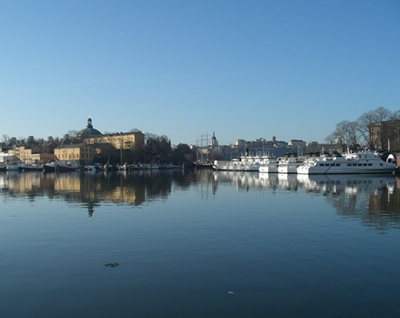 Modular education program in MBSE:
Model-based Systems Engineering (MBSE), has for the last decade gradually changed the practice of development and procurement of complex technical systems. Wisely used, MBSE contains a significant potential for improving the quality and efficiency of systems engineering, but it comes with a steep learning curve. To meet this demand, the Nordic MBSE School is an open modular education program conducted in Stockholm, Sweden, October to December 2015.
The program consists of four different two day courses, and a voluntary individual project assignment, that you combine to meet your individual learning outcomes. The Nordic MBSE School is organized by the Nordic Systems Engineering Alliance - a network of small and medium-sized organisations with unique competencies in product creation and technical leadership.
The modular approach of the school intends to target different audiences and pinpoint their individual needs. To support individual adaptation of the program, several combinations of course modules stretching from two to eight days are available. This school is equally suitable for organisational leaders, project managers, and engineers wishing to learn more how MBSE can leverage your development organization, and how to put in into useful practice.
Modular education program | Conducted in Stockholm October-December 2015 | 2, 4, 6, or 8 course days | Teaching language is English | For more information, please contact us on phone +46 707-707014, or indicate your interest here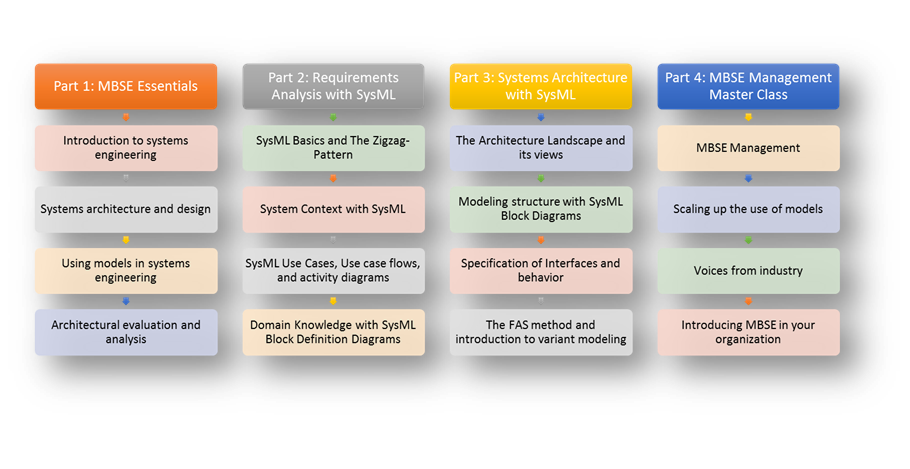 Create your own unique competence path
The Nordic MBSE School is suitable for everyone seeking to take a competence leap regarding MBSE regardless if you are seeking an overall orientation on MBSE, or a reliable platform to conduct or lead model based systems engineering efforts.
Four course modules for you to combine
The four two-day course modules and the voluntary individual home assignment are designed to gradually build your MBSE competencies, and to cover the area from different perspectives. The modular design of the Nordic MBSE School enables you to pick the themes that are most valuable to you.
Course modules
Individual (voluntary) project assignment
If you attend more than one module you can also perform an individual project assignment adapted to your interests, and the modules you have followed, to take your learning one step even further supervised by our expert lecturers.
More information
Corporate group registration
If you already know that you would like to send a group to one or several of the course modules in the Nordic MBSE School, we would like to simplify your decision by giving you a very competitive price. Please contact us for a prospect adapted to your needs.
Last day for corporate group registration is June 18
This email address is being protected from spambots. You need JavaScript enabled to view it.
Price and registration
Course fee for individual registration is SEK 14 900 SEK per two day course module. The price includes course material, lunch, and coffee. In each course module, you will meet two of our expert lecturers. If you fulfill the complete program, you will receive a diploma. All students obtain a detailed course certificate. Prices are excluding 25% Swedish VAT.
More information, terms, and conditions
MBSE School discount: If you register to two (2) or more course modules at the same time, you will recieve a 5% discount on the course fee. 
Group discount: If you register two (2) or more persons from the same organisation to the complete program at the same time (all four course mdoules) you will recive 12% discount on the course fee.
The MBSE School and Group discounts cannot be combined with each other, or with any other offerings.
Last day for registration to the complete program is September 11. For each course module, last day for registration is 30 day before the start of the course (please see the dates for each course module).
This sounds really interesting...
Please get back in touch and tell me more about the course