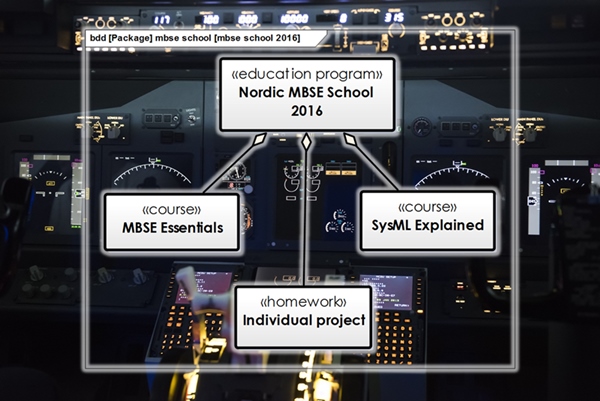 Learn MBSE in a new way:
Model-based Systems Engineering (MBSE), has for the last decade gradually changed the practice of development and procurement of complex technical systems. Wisely used, MBSE contains a significant potential for improving the quality and efficiency of systems engineering. Implementing and using MBSE however comes with a steep learning curve. The course modules in the Nordic MBSE School conducted in Stockholm and Malmö during 2016 gives you the basics of MBSE as well as many examples on how you can find the right path for your unique MBSE journey.
The school consists of two different three days courses that you select and combine to meet your individual needs and a volontary individual project assignment. The school is conducted by the Nordic Systems Engineering Alliance, - a network of small and medium-sized organisations with unique competencies in product creation and technical leadership.
Modular education program | Conducted in Stockholm and Malmö during 2016 | 3 or 6 course days | Teaching language is English | For more information, please contact Jonas Andersson, +46 707 7070 14, or This email address is being protected from spambots. You need JavaScript enabled to view it.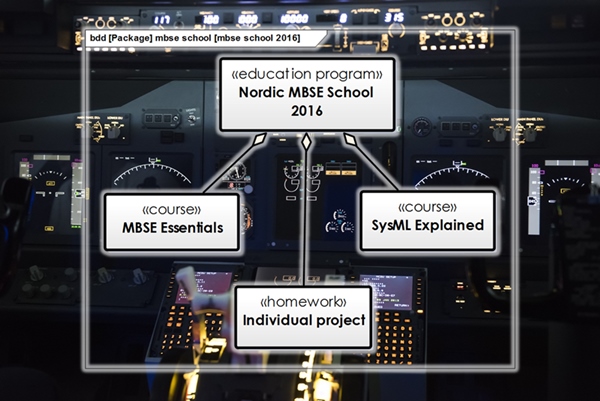 Create your own unique competence path
The Nordic MBSE School is suitable for everyone seeking to take a competence leap regarding MBSE regardless if you are seeking an overall orientation on MBSE, or a reliable platform to conduct or lead model based systems engineering efforts.
The school consists of two three-day course modules and the voluntary individual project assignment are designed to gradually build your MBSE competencies, and to cover the area from different perspectives. The modular design of the Nordic MBSE School enables you to pick the themes that are most valuable to you.
MBSE Essentials
Take your first competence step towards becoming an MBSE professional. MBSE Essentials gives you an introduction on how to use models in systems engineering. You will get an overview on many graphical description techniques and we explain how you can combine them with the right methodology to support your unique development and product lifecycle. You will also learn how to combine and use models to create an effective architectural description of your system-of-interest. The course also addresses model management and model-based systems engineering management.
MBSE Essentials will be conducted in Stockholm Spring 2017
Read more about MBSE Essentials
SysML Explained
SysML – the systems modelling language – is a central part of modern MBSE. The language is powerful and flexible, but also requires a lot from its users and other stakeholders. SysML Explained gives you the fundamentals of creating a model describing your system-of-interest including requirements, stakeholders, system contexts, use cases, and domain blocks. In this course, you will also learn the basics of describing and analyzing your business and operations using SysML.
SysML Explained is conducted in Malmö (May) and Stockholm (November) during 2016
Read more about SysML Explained
Individual (voluntary) project assignment
If you attend both courses, you can also perform an individual project assignment adapted to your interests to take your learning one step even further supervised by our expert lecturers.
Scheduled courses in Nordic MBSE School 2016
Each course module is three days long. Click on each course for more information and registration to the MBSE School.
More information
Price and registration
Course fee for individual registration is SEK 18 950 per three day course module. The price includes course material, lunch, and coffee. Upon completion of the course, you will obtain a detailed course certificate. All prices exclude 25% Swedish VAT.
Continued education provide more value if you and your colleagues attend it together! If you already know that you would like to send one or several participants to the Nordic MBSE School, we would like to simplify your decision by giving you a very competitive price.
The MBSE School and Group discounts cannot be combined with each other, or with any other offerings.
Would you like to follow the complete school?
School discount: If you register to both more course modules at the same time, your total fee wil be only  SEK 30 900.
Are you an "Early bird"?
Early bird: At early registration to any of the course modules, your course fee will be only SEK 16 450.
Would you like to attend the school with your colleagues?
Group discount: If your are four of more from your organisation that would like to attend the course(s) together, please contact us for a proposal adapted to your organisation.
This email address is being protected from spambots. You need JavaScript enabled to view it.
These discounts cannot be combined with any other offerings or discount. See the page for each course module for more information on last date for registration and for obtaining the "Early bird" discount.
Information, terms and conditions
Tell me more!