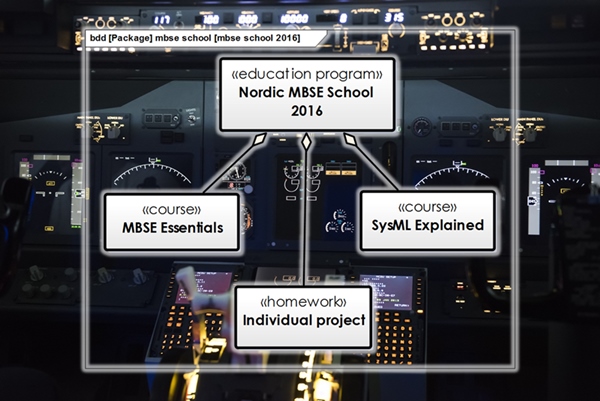 Learn SysML from an expert:
SysML – the systems modelling language – is a central part of modern MBSE. The language is powerful and flexible, but also requires a lot from its users and other stakeholders. SysML Explained gives you the fundamentals of creating a model describing your system-of-interest including requirements, stakeholders, system contexts, use cases, and domain blocks. In this course, you will also learn the basics of describing and analyzing your business and operations using SysML.
To train your skills in visualizing your system-of-interest from different perspectives, you will in the course use SysML to create common architectural views in systems engineering. For example, we discuss the physical, logical, product-oriented, and functional views. The course contains many practical examples and ample opportunities to get help and guidance from real experts.

SysML Explained is equally suitable as a first standalone introduction to MBSE, or as a module in the Nordic MBSE School. The course is conducted in partnership with oose.
Code: DW480 | Level: Elaboration | Length: 2-4 days | Language: English | Ideal group size: 12 students | For more information, please contact Jonas Andersson, +46 707 7070 14, or indicate your interest here.
Scheduled courses in Nordic MBSE School 2016
Each course module is three days long. Click on each course for more information and registration to the MBSE School.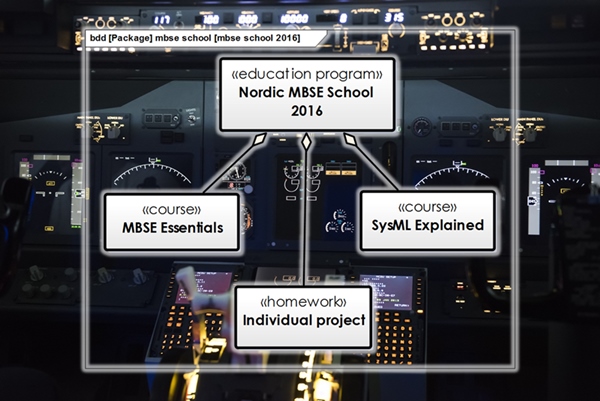 Audience
Our introduction course in SysML is targeting you who has some previous knowledge in systems engineering but would like to learn more about the fundamentals of SysML, and how to apply SysML to describe and analyse business, requirements, and architecture. SysML Explained is also suitable as a dedicated course in the SysML notation focusing on what you can do with the language, and how to manage and understand SysML's limitations and challenges.
Outcome
The course introduces SysML and gives you a deeper understanding for how SysML can be applied to describe and analyse business, requirements, and architecture. SysML Explained is a module of the Nordic MBSE School but also suitable as a standalone introduction to SysML.
Themes
SysML Basics and The Zigzag-Pattern
System Context with SysML
SysML Use Cases, Use case flows, and activity diagrams
Domain Knowledge with SysML block definition diagrams
The Architecture Landscape and its views
Modeling structure with SysML Block Diagrams
Specification of Interfaces and behavior
The FAS method and introduction to variant modeling
Would you like to learn more?
Fill out your contact information and we'll get back to you. We can conduct the course as company internal training, or as open education if we have a sufficiently large student group.